Our Team
The dynamic, educated and highly skilled individuals that create our team at Conscious Construction come to this industry by intention, not consequence. We utilize our complementary expertise to build your dreams.
Our office manager serves as the initial liaison for new clients, and is responsible for enhancing corporate culture, maintaining insurance, bonding and workman's comp requirements, as well as managing all other HR duties to keep our workplace streamlined and happy.
Once your project starts, our Project Manager handles all scheduling, creation of subcontracts, job specific accounts payable and receivable, and most importantly, creating clear and consistent dialogue with you, the client, by providing regular project updates through phone conversations, email documentation, and weekly on-site meetings.
Prior to contract signing and project commencement, our estimator creates a thorough and complete line item account of the project by CSI code, making it easier for both the client and design professionals to isolate the cost of specific aspects of construction. Additionally, our estimator often creates and distributes RFIs to the design team to identify specific conditions needing to be addressed on the forefront, with the goal of minimizing oversights and change orders through the construction process.
Experts in the physical side of building, our Superintendents focus on the nuts-and-bolts of construction, supervising both in-house staff and subcontractors on site. Any time they discover a discrepancy in plans or concealed conditions, they take a pragmatic approach to working with the client and design team to overcome obstacles in a timely manner, always aiming to keep the project on schedule and on budget.
From Journeyman Carpenters with decades of experience to Apprentices cutting their teeth in the field, these are the people who perform the actual construction of your project, and are the folks you will see day in and day out until completed. Our Field Staff members are universally hard-working, punctual, respectful, genuinely easy to be around, and most importantly, highly skilled.
Jeff Sochet
President
A San Francisco Bay Area native, Humboldt State University graduate, and father of two boys. Jeff has been involved in the building industry for more than 25 years. He started Conscious Construction in 2006, motivated to make a positive mark on the industry and the people he works with.
His most proud professional accomplishment is the exceptional team he has been part of developing, and the high client satisfaction Conscious Construction has been able to achieve.
Jeff's philosophy is that with the right vision, structure, and people in place anything is possible.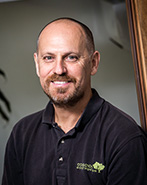 Eric Christianson
Operations Manager
Coming from a diverse professional background, Eric entered the construction industry in the Bay Area in 2008, working for the General Contractor building the new Self-Anchored Suspension Span of the San Francisco – Oakland Bay Bridge. He is proud to have been part of the construction of such an iconic Bay Area structure. Looking to contribute his experience to Conscious Construction, Eric joined the team in 2016.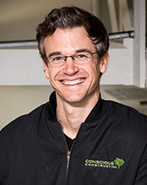 Andy Wells
Superintendent
Andy grew up surrounded by the arts. His mother was self-employed as a professional weaver and although his father was a lawyer, he was passionate about music – always learning and playing a new instrument. It was only natural that Andy would find the arts. As a fine artist he was passionate about designing and creating forms for people to use or simply enjoy.
Eventually his work as an artist led to construction where he is still able to work with his hands interact with people on a daily basis and continue to create and build forms and spaces for people to use and enjoy.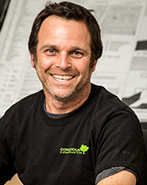 Matt Grober
Superintendent
Born and raised in Port Washington, NY, Matt moved to California after high school. For four years he worked for a small Malibu-based construction company. After graduating from UCLA he moved to the Bay Area to pursue a career in construction. For 10 years, he worked for two companies specializing in residential remodels. He later became self-employed as a general contractor managing and running his own projects.
Matt joined Conscious in 2012, with 20+ years in the building industry. One of his greatest strengths is the professional, personal, management style he brings to every project.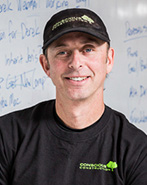 Jack Yurdin
Project Manager/Estimator
Originally from Chatham, MA, Jack joined Conscious Construction in 2017 as office manager. In addition to running smooth day to day operations, he supports estimators and project managers on various projects.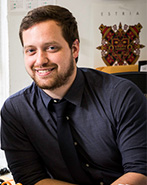 Company
President/CEO

Operations Manager

Project Manager/Estimator

Cricket Deetz

Human Resources

Superintendent

Superintendent

Rodolfo Alvarez

Journeyman

Gilberto Marroquin

Journeyman

Encarnacion Batres

Journeyman

Hector Garcia

Journeyman

Desman Maldonado

Journeyman

Mario Pascual

Carpenter

Jorge Gomez

Carpenter

Oscar Idelfonso

Carpenter

Roger Perkins

Recycling Specialist

Lauren Cox-Pursley

Bookkeeper