As long-time Oakland residents and business owners, we believe in contributing and sustaining a thriving community. Creating safe spaces for our children to play, supporting local sports teams and non-profits in creative ways so that they can keep their operation funds on task, are just a few ways that we give back.
DreamCatcher Shelter Renovation
| Alameda County
DreamCatcher Youth Services is a shelter in Alameda County for at-risk youth. Since 2000, DreamCatcher Shelter has been providing homeless, disconnected youth with short-term, emergency support to keep them safe and connect them with a positive, stable environment that can help them become healthy, productive, caring citizens of our community. To further this mission, Alameda Family Services enlisted Conscious Construction for the DreamCatcher Shelter Renovation, a complete renovation of a 4600 s.f. building to enable DreamCatcher to move into a new space to better suit their needs. Conscious is proud to have been part of the project, and we offer our best wishes toward brighter futures for our youth in need.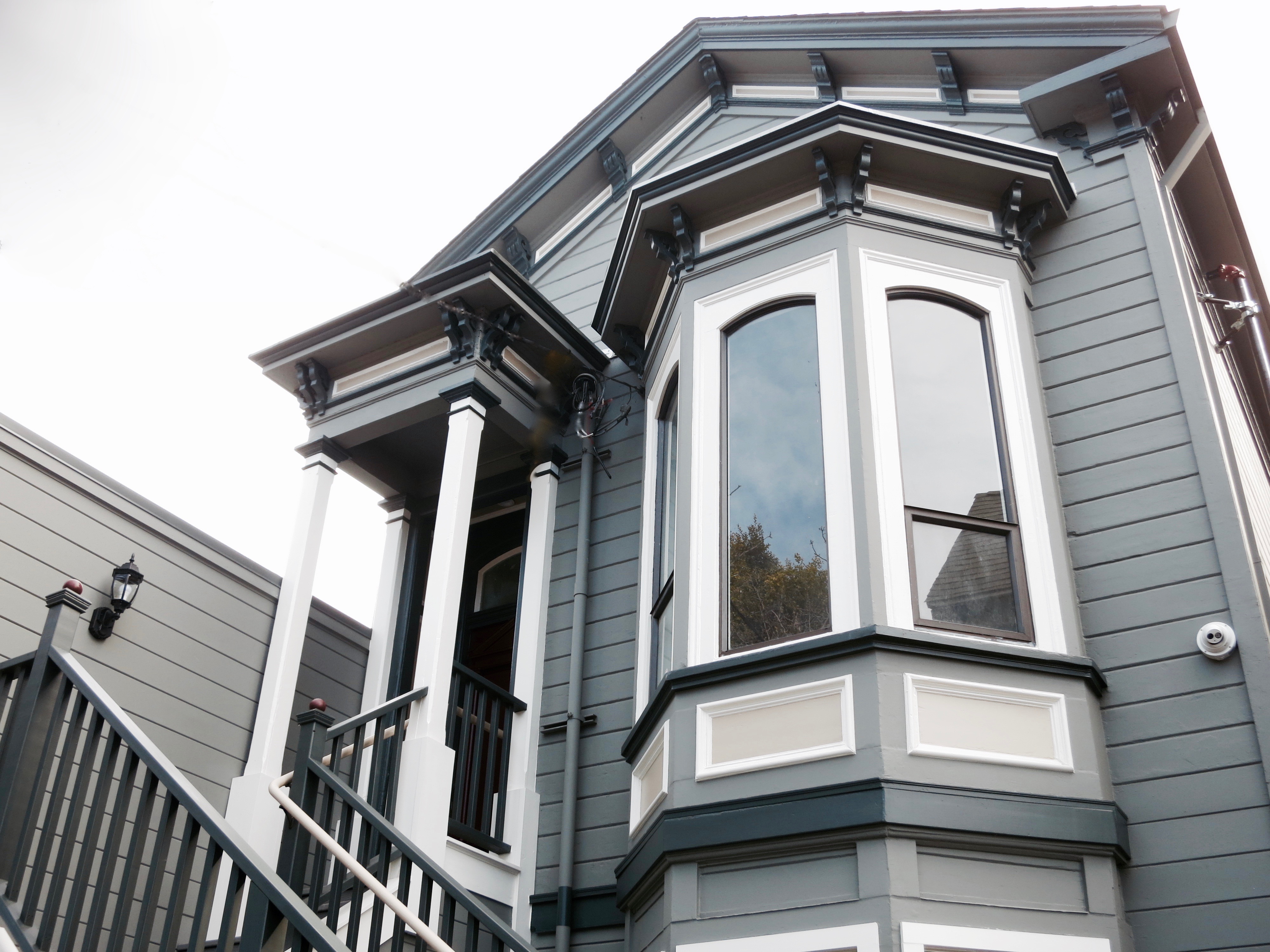 Rebuilding Together Oakland
| Oakland
Founded in 1993, Rebuilding Together Oakland has played a vital role in assisting low-income seniors and veterans maintain their homes and livelihoods. RTO has touched over 1,200 homeowners and hundreds of community facilities in 22 years, and we've been happy to support them since 2014. Conscious has provided dozens of hours of in-kind labor and materials donations to sponsor their projects and further their mission of allowing seniors to age in place, in safe and healthy conditions. It is important to us to be an active member of our community, and we are proud to make an impact for those who truly need it.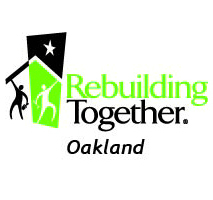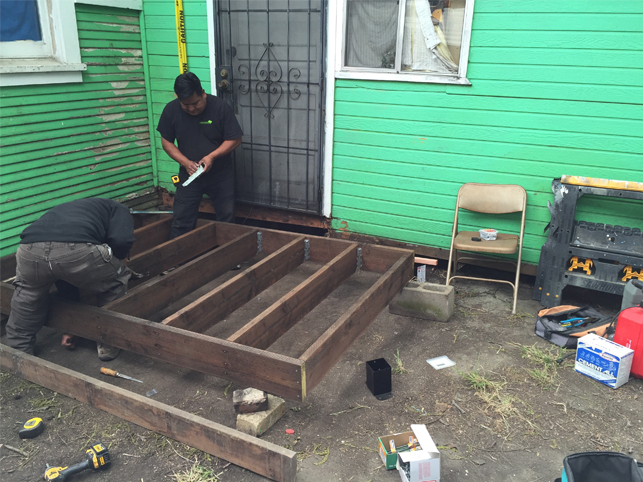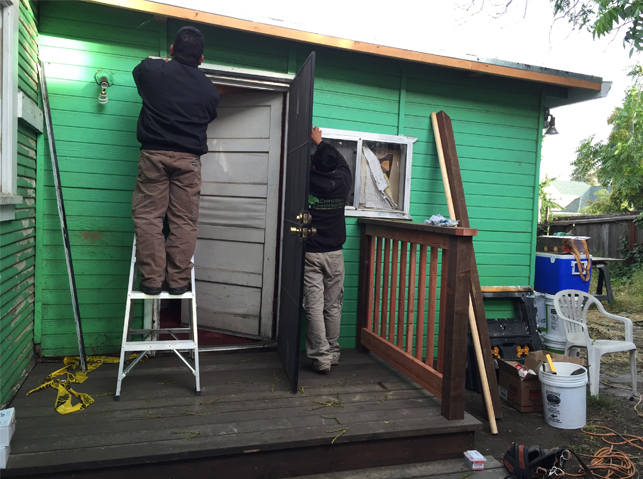 Town Park, Skate Park
| West Oakland
Conceived by Keith "K-Dub" Williams, then Oakland High School's Art teacher, Town Park started in 2008 with a loosely knit group of skateboarders, artists and community activists and volunteers with the goal of turning a blighted, unused portion of Defremery Park into a positive recreational and creative outlet for West Oakland's inner-city youth. Conscious Construction was contacted by K-Dub to bring construction and logistics expertise while relocating a 10,000 s.f. skatepark in Pleasant Hill to Oakland, and then reconstructing it. Subsequently, over the years we've continued to help revamp and maintain the park, including the construction of a youth mural project sponsored by SFMoMA.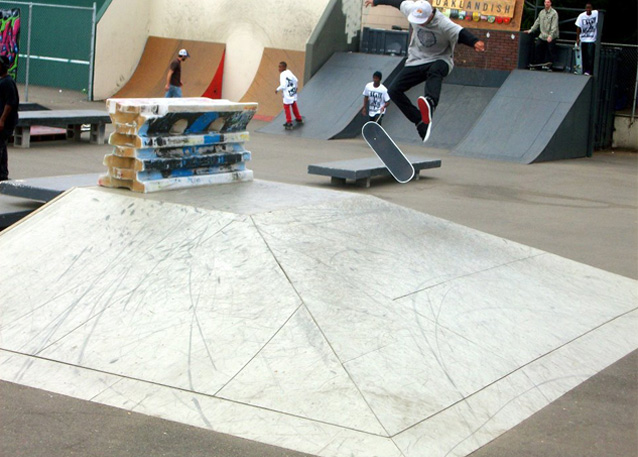 Oakland Super Heroes Mural Project
| Oakland
In 2011, Amana Harris, Attitudinal Healing Center's (AHC) Director and Jeff Sochet of Conscious Construction, met at an Open Studios art event in West Oakland. A friendship was forged and dialogue was exchanged on how each of our Oakland based organizations could support one another's goals.
The Oakland Super Heroes Mural Project is one of many noteworthy undertakings of AHC, whose mission is to revitalize, beautify, uplift, positively transform and bring hope to the West Oakland/Emeryville area on a large scale. It was an honor to contribute by donating our resources to clean and prep the walls for the unbelievable art to follow. We are proud of this relationship, and we look forward to it's continuation and growth in making our community a brighter, more welcoming place to live, work and visit.


Estria Foundation Battle
| Downtown Oakland
Though primarily focused on extremely large-scale murals focused on water rights and issues, once a year the Estria Foundation sponsors a graffiti battle right in the heart of Oakland's inner city. From around the state, professional artists participate by invitation. Conscious Construction prepared 12'x8′ art canvases for the competition, as well as coordinated the set-up and take down.
After such a successful event, we are looking forward to participating in the years to come.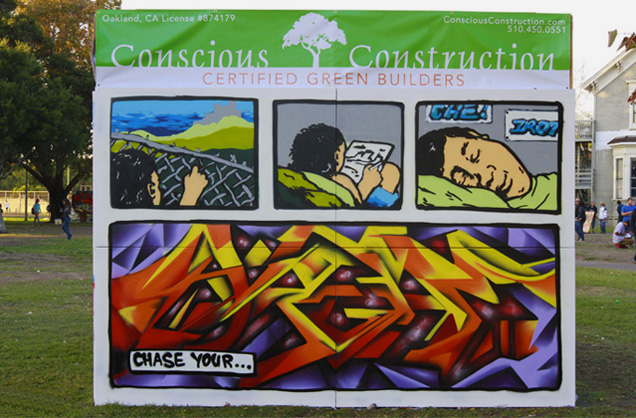 Big Brothers Big Sisters of the North Bay
| San Rafael
After an errant driver crashed into a structural post of the BBBS of the North Bay's San Rafael headquarters, Conscious Construction was contacted to provide a bid for the repair. After learning more about the important mentorship work they provide to at-risk youths of Marin, Napa, Solano and Sonoma counties, it was an easy decision for us not only to make this repair at no cost, but to also become Major Donors.